We'll be opening our Naturist B&B / Holistic Hosting, for adults only from the 4th of August until the last weekend of October 2020, in accordance with the hygiene measures imposed by the Covid19 crisis.
We were so excited to begin our first year of activities in April 2020 with a series of amazing Mindful Sexuality Workshops and then this nasty little virus came along and changed our plans…
With great regret we had to cancel or postpone almost all of the courses until 2021. Some are still on the 2020 calendar so we'll be informing you via the Newsletter during September and October if they'll go ahead or be postponed.
Tantric Massages
You may not have noticed it but your body has certainly suffered during these months of confinement, whilst locked in at home, and even more so if you were teleworking.
Now is the time to softly, gently and sensually reactivate the deep functions of the organs, and especially to reconnect and reactivate your vital energy.
For this we offer you an extensive menu of tantric massages in which the whole body is involved.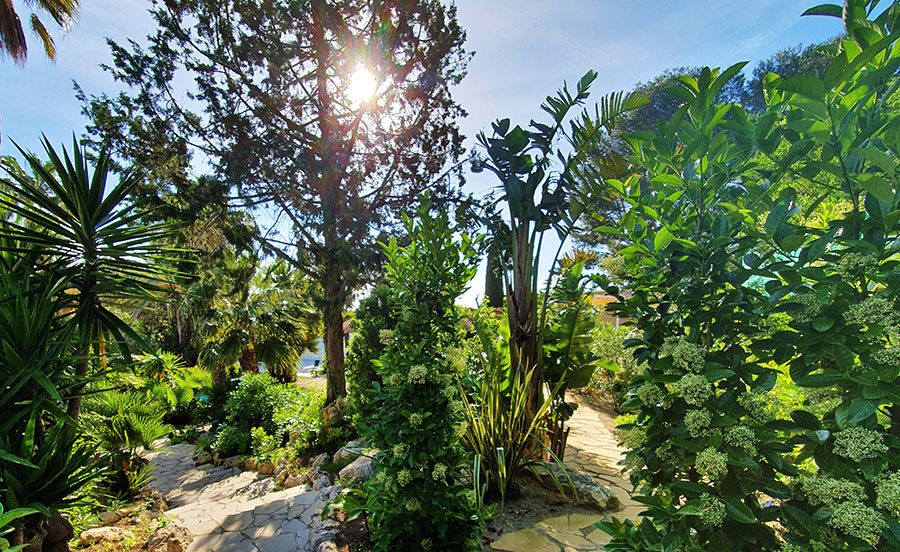 Naturist Holistic Hosting?
This is a very special and different option for your summer holidays on the Costa Dorada! We´ve already written an article with more info about what a Naturist B&B or Holistic Hosting is.
We are delighted to invite you to spend a few days with us, to enjoy a naturist holiday in a secluded garden with a sensual and harmonious atmosphere, where you can meet and share with like-minded people.
We invite you to participate with us in our morning nude yoga class, after an early bath in the nudist swimming pool, and to practice the breathing exercises of the Wim Hoff method, as well as many other proposals that will pop up according to your moods and desires.
For the rest of the day and evening you can together with your partner, follow our guided tantric meditations or massages.
Every morning you can enjoy a fresh and organic breakfast under the shade of the palm trees.
At La Casa Dorada nothing is mandatory…it's simply a proposal.
You can just rest, relax and chill on comfortable sun loungers by the pool.
ACTIVITIES AROUND US
It's only six minutes walk to the nearest beach, with a nudist spot a little further along. And it's a short drive to Waikiki beach, one of the most beautiful, secluded nudist beaches in the area.
There are many bars and restaurants close by, for drinks or to enjoy the Catalan cuisine.
Sitges, Salou and Port Aventura are only 20/30 min by car, or by train.
To get a taste: the Day Stay (holiday within your holiday)
If you are spending your holidays close to us, in Barcelona, on the Costa Dorada, in Tarragona, or if you are living nearby, we offer the opportunity to spend a full day with us from 11h to 19h.
Indulge in the pleasures of being in a nudist swimming pool, enjoy the caresses of the sun and delight in sunbathing in the nude. Savour your lunch at the shared table, and get to know our other visitors.
Couples or pairs: the Day Stay Experience includes the use of sun loungers with parasols, two set lunches with wine and access to our amenities and mini workshops.
The tantric Temple and the cuddle lounge are waiting for you too!
All of this for only 50€ for two people.
Leave the kids with their grandparents and come over and enjoy a full day of sensual reconnection with yourself and your partner!