Simone and Christian are a German and French couple, parents of a recently born, adorable and constantly smiling daughter. They met during their Tantric journeys and decided to create this naturist B&B: an open, international and multidisciplinary community where people can recharge their batteries and benefit from the nourishing energy brought by the group. Set in an oasis of greenery where everyone brings their knowledge, their skills and shares their experiences.
How did you meet?
Simone: We met in a tantra workshop at the Diamond Lotus in Berlin almost six years ago. Our first exercise was sitting naked on each other and breathing together, looking into each other's eyes. That was our first, intense, connection.
Are you swingers?
Simone: We do not define ourselves as swingers, but swingers are very welcome in the Sex positive community and to our place.
Have you studied Tantra?
Simone: Yes, at the Diamond Lotus in Berlin. It's still one of the main schools to learn Tantra Massage and one of the very unique "Red Tantra" schools. Most of the practitioners working in German, Austrian and Swiss studios come from the Diamond Lotus.
Christian: The Diamond Lotus was created by Andro Andreas Roth in the early 70's. He is the inventor of the well-known "Tantra Massage", which didn't exist in traditional Tantra.
What we learned there was very open. This tantra invites many types of explorations.
How has Tantra influenced/benefited your relationship?
Christian: It's not only Tantra that influences our relationship and our daily life but the whole principle of Mindful Sexuality. For my part I have a daily routine that allows me to cultivate and increase my energy flow "The Sexual Kung Fu". This routine is largely influenced by Sexual Tao taught by Mantak Chia. Simone and I also practice OM "Orgasmic Meditation" at least once a week, which allows us to be totally present in our bodies during a deep meditation. We're also very fortunate that each member of our open community living with us, shares their knowledge with us and we all practice together: different styles of yoga including Tantra yoga, Kundalini Yoga, Hata, nude Yoga, also the Wim Hof Method, inner child practices, Microcosmic Orbit, massage exchange, chanting etc…
Simone: Besides the deep breathing exercises that I try to do quite regularly I practice Jade Egg exercises to strengthen my pelvic floor, which helps me a lot after the birth of our little Aurelia. In winter I like to swim laps in the pool where the water can be quite cold, even on the Costa Dorada (laughs…). To be honest, the creation of La Casa Dorada has required and still requires a lot of energy and time, which we may not have fully considered at the beginning of the project, and we have to be very vigilant so that our family remains protected while keeping an open heart to welcome our visitors and make them feel at home. For this it is very important to communicate openly, to be heard and recognized whatever the situation is.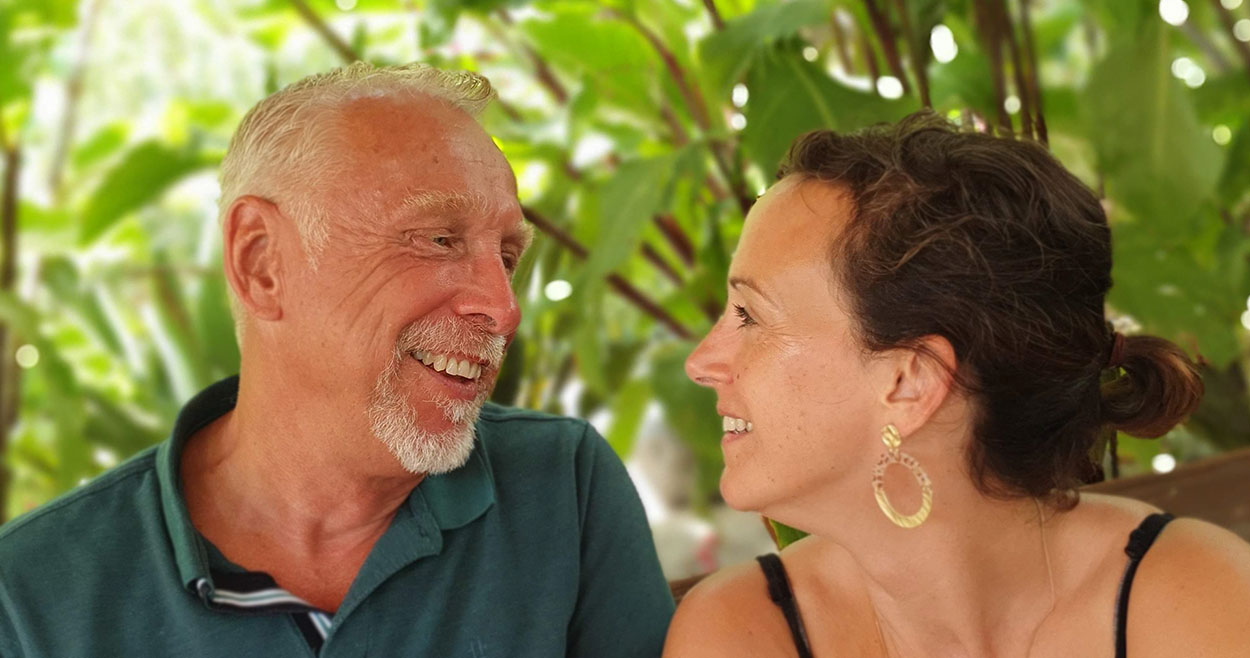 Simone, are you a Therapist?
Simone: Yes. I did a three-year training of Holistic Integrative Breath Therapy with Tilke Plateel-Deur and Hans Mensink. The basic of this therapy form is conscious breathing in order to feel all stuck emotions, trauma and deeply locked beliefs without judgment and to embrace each facet of yourself. Connected breathing helps you to stay in the present moment and then you can fully integrate and let go of old patterns and painful emotions. The breathing is also a powerful tool of Mindful Sexuality. You can increase the sexual energy with different breathing techniques and feel more fully the sensations and the pleasure in your body.
Christian, how did you become a Sexological Bodyworker and founder of the Neo Tantra School in France?
Christian: I did my learning and training with the Swiss team led by Didi Liebold and I was lucky that Joseph Kramer, the inventor of Sexological Bodywork, was always present and bringing his knowledge to the intensive workshops. Once certified my plan was to introduce Sexological Bodywork professional training in France but all the online content is in English and was too much to translate. There is also an issue around the status of masseurs, sex coaches and therapists in France as they are not recognized by the medical college as therapeutic professions. So I created the Neo Tantra School, which is largely inspired by Sexological Bodywork.
Are there different levels of Mindful Sexuality workshops on offer?
Christian: In addition to the "AWAKENING" workshops series that we offer and the workshops facilitated by guest presenters, there are a series of advanced workshops called the "UNIVERSAL LOVER" which are quite experimental and are aimed at people who are already well advanced in their personal development as well as people we already know.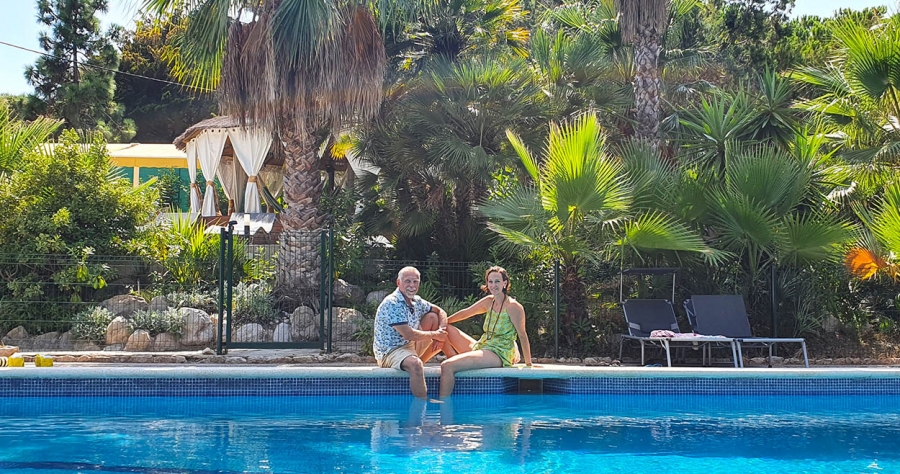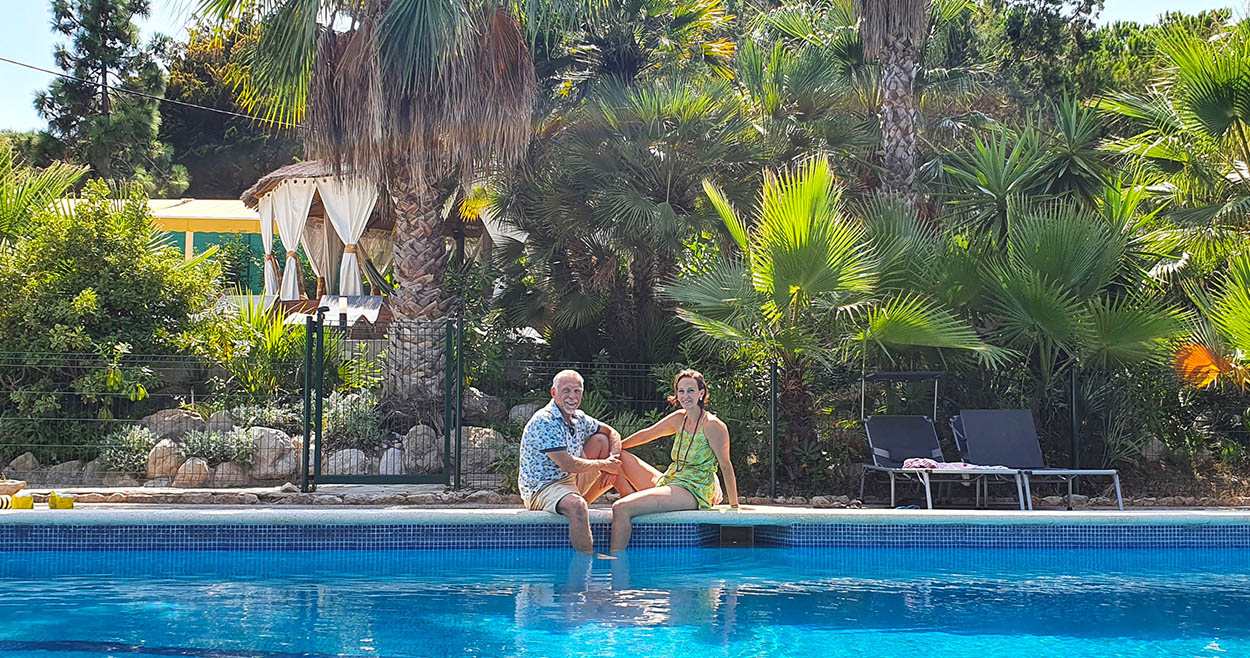 Why have you created La Casa Dorada?
Christian: We realized that a significant number of people who have participated in Tantra or personal development courses based on embodiment and sexuality are unable to rekindle the magic created during a course back into their daily lives. This is possibly because the beneficial energy of the group is no longer present or the benevolent support of the moderators is lacking or the ego has regained the upper hand and (bad) habits return at a gallop. It can also be that the partner is not engaged in the same way in the process of change. La Casa Dorada is an open, international and multidisciplinary community where people can come to recharge their batteries for longer or shorter periods of time and benefit again from the nourishing energy brought by the group. It is literally a Spanish hostel where everyone brings their knowledge, their skills and experiences. And even if they are only questioning, or there are difficulties, it allows everyone to reflect on themselves under a different axis.
Simone: It's also important for women to be able to meet among themselves, to re-form this sorority regardless of social origin or age, to share what makes them mysterious and unique. It is the same for men. What a wonderful experience to transform the destructive paradigm of competition to the paradigm of mutual aid.