Tantra & Sexological Bodywork

With Ralf Lieder and Iris Slomma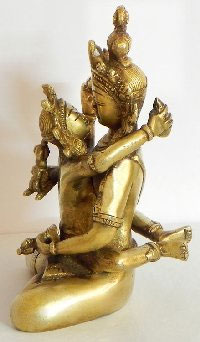 Tantra is a path to awareness that honours the sexual power as the strongest body energy and uses it for personal development. Especially in Western Tantra, the focus is on a conscious and mindful approach to sexuality, which can have a healing effect.
Sexological Bodywork accompanies people to new experiences with their body, their sensory perception and their sexuality. In this holiday workshop, in a wonderful location in Catalonia (about an hour's drive from Barcelona), these two worlds combine to create a unique experience: the transformation of sexual energy (2nd chakra) into a spiritual revelation (7th chakra). We guide sex-positive people through various rituals of red tantra and body-based methods towards more body awareness and an authentic expression of their sexuality – culminating in the Maithuna ritual.
One does not get rid of the darkness by pronouncing the word "lamp", says an old tantric wisdom. Words and thoughts alone are therefore not enough to have deep spiritual experiences that lead to an expansion of consciousness. In contrast to other spiritual paths, the body and sexuality in Tantra are seen as expressions of self-awareness.
To avoid misunderstandings: It's not about living out unbridled sexuality, but about carefully discovering the miracle of your sexual energy. You can decide for yourself at any time how far you get involved in the rituals and exercises and couples decide for themselves within what framework they open up to other participants. However, the seminar is aimed at sex-positive people who enjoy their own sexuality and are open to new experiences.
The ancient knowledge of Tantra is supplemented by the modern knowledge of Sexological Bodywork.
Practical Information
Theme
New ways in your intimacy and sexuality
Dates
10 to 16 July 2022
Presenters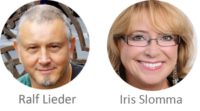 Main language


Translation possible

Participants
The number of participants is limited to 20. We strive for a gender balance.
Workshop price: 680 €
Accomodation and meals: 450 €
Location
C/ Josep Pla 11, Roda de Bara, Tarragona
The following methods and contents are part of the workshop
Tantra deals with polarities (e.g. male + female, plus + minus) and the resulting energy that can be used for spiritual growth. Chakras, kundalini, hatha yoga are other terms and forms of practice that have evolved from tantra. Combining traditional Tantric teachings and rituals with our Western culture and modern knowledge, we teach very effective exercises that can bring about profound changes and transformations.
This method, which we developed ourselves, teaches you how to relax into a high sexual energy and how to keep and circulate the high energetic charge in your body. Instead of the peak orgasm where energy is released at climax, you relax into the orgasmic energy and ride the wave. For some participants, the greatest benefit is to experience sexual energy without expectation or pressure to perform.
Despite the over-sexualised western society, there are astonishing gaps in knowledge about sexuality. In Tantra and Taoism, sexual secrets were revealed centuries ago and included in spiritual practice. In the last decades, Sexological Bodyworkers have intensively studied and researched sexual education and sexual health. We impart knowledge from both fields.
Serious Tantra massage is a form of ritual touch art in which the whole body is touched and massaged. It honours the human body and the human being in its entirety. During the seminar there will be several massage sessions in which the basics of tantra massage will be taught.
The goal in red tantra is bhukti and mukti – that is, worldly pleasure and spiritual liberation. In most spiritual directions, the two are mutually exclusive – but not in Tantra. In Tantrism, they are seen as complementary and supportive of each other. Tantric practice consists mainly of consciously performed rituals. We will celebrate several such rituals during the workshop, such as a Chakra Puja, a meeting and touching ritual in the circle of the group, where everyone comes into contact with everyone else. The highlight of the workshop will be the Maithuna ritual. In this tantric unification ritual, what has been prepared inwardly over the course of the days through meditation and ritual techniques is accomplished outwardly – the overcoming of duality, the celebration of the deities joining in oneness. The individual ritual couples can decide for themselves whether they want to unite physically in the ritual or not. It is about energy work and not about sexual permissiveness.
The bottom is definitely the part of our body most associated with shame, disgust and other negative feelings. But exactly there, where the greatest resistance and fears are to be found, there is also a lot to learn and discover. Health and pleasure are closely related here and open up possibilities to deeply explore one's own body, sexuality and vulnerability. It is important to us that each participant can discover their own pace and boundaries to feel their limits, needs, desires and fears.
The Orgasmic Yoga exercises connect heart with sex and allow you to come into a state of free flow, deeper sensing and conscious physical self-acceptance. It is about the orgasmic physical experience and developing or rediscovering erotic abilities. Through breathing exercises, training of the PC muscle, body awareness training and physical stimulation, arousal can be experienced and repeated at any time.
The awakening of the Kundalini energy plays a major role in Tantra. Kundalini is a form of latent bio-energy, our very own life energy, which is connected to sexual energy. Tantric exercises and rituals aim to stimulate Kundalini and thus achieve more aliveness and, on a spiritual level, union with the cosmic forces. We practice and teach a dynamic form of yoga developed by the Balinese yogi and tantra master Sri Jaya Sakti, Kundalini Tantra Yoga. The seminar house also offers various yoga sessions.
Breath plays an important role in Tantra because certain states of consciousness can be reached through conscious use of the breath. Tantric Rebirthing uses a specific breathing technique that leads to deep relaxation and introspection. Repressed feelings can be looked at and accepted, releasing energy. During the seminar there will be a guided Rebirthing session, as well as several breathing exercises.
On one day there will be a tantric "secret" heart opening ritual, where each participant can decide after a preliminary talk with us if he or she wants to take part.
In addition to the meditation and yoga offered in the seminar house, we will also offer meditative exercises, most of which are very body-related (e.g. Kundalini meditation, etc.).
Having fun and joy together is an important element of the workshop. Whether at the pool, in the sauna or in the Divan hut – the seminar house offers many possibilities for this. Furthermore, we will also plan and offer joint and individual activities outside the resort. At the end of the workshop we will celebrate a big party together in an erotic outfit.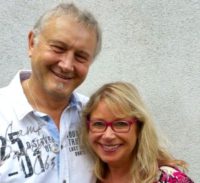 Ralf Lieder is a tantra teacher and rebirther/integrative breath therapist with many years of experience. He leads numerous seminars in Germany and abroad, offers online courses and is the author of various books, articles and videos.
Iris Slomma is a rebirther/integrative breath therapist, resilience trainer and adult educator. She is completing a training in Sexological Bodywork.
Ralf and Iris are supported by a team of assistants. The seminar language is German.