Implement Mindful Sexuality into your daily life
La Casa Dorada is a Neo Tantric community which practice Conscious Sexuality, Pleasure and Mindfulness as tools for learning, evolving and enriching our lives.
Our community is an experiential place, an open space, where everyone is invited to contribute with his/her own talents to enrich the experience and that of the group.
We took as an inspiration ancient forms of living together, such as clans, tribes or communities, and readapt them in a modern way.
Our common values are:
Acceptance and non-jugement
Acting in Full Consciousness
Cultivating and celebrating Vital Energy
Honoring the sacred feminine and masculine in everyone
In order to grow and develop as individuals as well as a community we give space to everyone to express his/her own singularity.
What is the Tribal Tantra Xperience?
A group of people who live and practice together, sharing the same spirit and values.
The TTX, is a special program created by Christian Gouttenoire aka "Chris Tantra" and which is constantly evolving thanks to the permanent members and visitors of La Casa Dorada.
We are living and practicing together with an open heart, cultivating empathy and compassion.
This program consists in one week starting of Sunday afternoon ending on the following Saturday morning.
At the center is the Extended Family, the founding element of our project – it is a group of people who live and practice together, sharing the same spirit and values.
This core group works closely together to make La Casa Dorada like a home, to make everyone's stay warm and enriching.
The type of Tantra and sexual awareness we are practicing is a "Global Tantra", which integrates many different aspects of Contemporary Sexualities like Red Tantra, Sexual Tao, BDSM and Sensual Rituals.
We use ancient and modern tools and technics like Body-Based Meditations, Sexological Bodywork, Sacred Intimate connections, Tantra Hatha Yoga, and more.
This program is for everyone, whether you are a total beginner, an experienced practitioner or a member of the sex-positive community, individual, couple/pair/trio, from all genders and orientations.
It is an opportunity to meet different cultures and lifestyles coming from everywhere.
The origins and languages spoken at La Casa Dorada are multiple, although English is the most commonly used language.
French, German, Spanish and Catalan are also commonly used.
A safe moment in which you can express and make come true your most hidden desires.
What is the Embodiment Experience?
It is the core of the "Tribal Tantra Xperience" (TTX)
Unlike workshops which have a very specific program on a given theme, every day you will have a unique opportunity to express, explore and update your shadows or unspoken wishes.
The "Embodiment Experience" is a safe moment in which you can express and make come true, with help of the embodiment coach and the support of the group, your most hidden desires.
Sometimes these desires and fantasies are deeply buried in our mind and we don't dare to express them because of social conditioning and cultural limitations.
The secured space of the Community, offer you all the place and support needed to express, liberate and fulfill your unmentionable fantasies.
In the same way you can also participate to fulfill the desires and fantasies of others members of the community if you feel like joining into them.
This free space for personal expression and fulfillment is the main difference in between the Tribal Tantra Community Experience and a classical Tantra workshop.
La Casa Dorada, is the result of a long personal experience and deep reflections in order to create a unique, intimate and warm place, perfectly adapted to allow authentic and intense human encounters.
La Casa Dorada is a safe space to explore different forms of sensual experiences, to free ourselves from social conditioning and cultural expectations and limitations.
Strengthen your life through Mindful Sexuality
You can join La Casa Dorada Community, on a one week stay and contribute only to the costs of accommodation, food and program. You will be then immersed into the heart-warming daily life of our very particular Tribal Tantra Community.
The daily practices
Early morning cold bath in the pool or the sea to strengthen the immune system.
Naked Tantra Hatha Yoga to align the body and to improve flexibility.
Body Based Meditations to improve your emotional and physical health.
Sharing circle: a space to express our feelings, emotions, doubts, difficulties, joy and sorrows.
Embodiment Experience: a free and safe space to express your creativity, share your talents and skills.
Karma Yoga – The Path of positive action: by sharing and doing things together, you can experience a simple and natural feeling of union, peace and joy.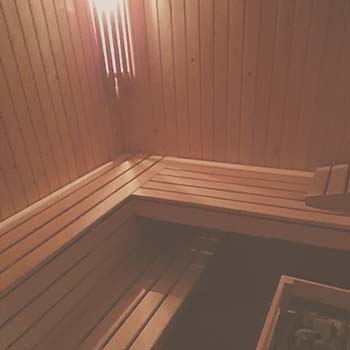 Nights Rituals
Sauna Ritual and cuddle nest: to reduce the stress and make soft connections to one another.
Tantra Massage Exchange to learn slowness, creativity and sensuality when touching a body.
Kama Sutra Yoga: to improve your sex life, learn more than 50 tantric asanas (love postures).
Orgasmic Anal Meditation: learn to be more anchored and grounded, make flowing your Vital Energy.
And much more: "Birthday ritual", "Self-Love ritual', "Three Circles ritual"," Full moon ritual (honoring Shaktis- women)" "Arising moon ritual" (honoring Shivas – men), bondage jam…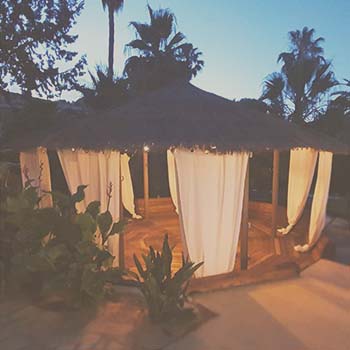 Final Celebration
Final Celebration: The last evening will reunite all the members of the community.
Gala dinner after a bubbling aperitive.
Play Party Night: to gather together and nourish your sensuality, creativity and curiosity.
Additional Sessions
Private sessions:
Depending on your needs you can complement your "Tribal Tantra Community Experience" with one or more private sessions:
The Venue
The venue is located on the coast 70 km south from Barcelona, 6 minutes walking distance from the beaches.
Located in a quiet residential area.
A California style mansion nestled in a 2.000 m² tropical garden.
Places to practice, meet, share, experiment:
The Tantric indoor Temple
The external wooden Pavilion
The outdoor Pool platform
Also, the "Club House" dinner space, the outdoor lounge, and many little hidden spots, to meet and gather in private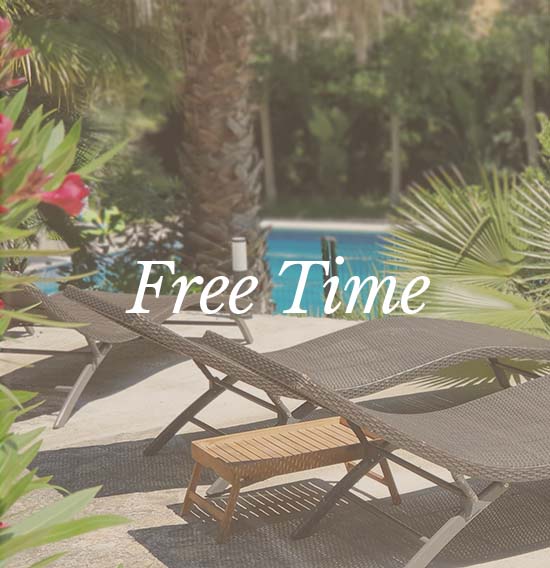 During your free time you can:
Enjoy the nudist swimming pool, or naked sun bathing in the tropical garden.
You can visit beaches and surroundings.
Enjoy the Catalan cuisine and tapas in the restaurants or bars nearby.
Participation Fees and scheduling
"
Tantra and Mindful Sexuality go far beyond sex.
Through Mindful Sexuality, all daily activities are opportunities to experience other dimensions of Being, especially when approached with Consciousness and Intention.
By immersing oneself totally in each present moment of Mindful Sexuality, one reaches Universal Ecstasy.
When you live in a Tantric way, you live with love and passion for all of life, and with a constant and blissful connection to All That Is and All That You Are.
"
Interested in our Workshops and Blog articles?