What is the Tribal Tantra Xperience?
The Tribal Tantra Experience is the core of what we do at La Casa Dorada: It's a shared living space for individuals and couples of any age (18+), gender and orientation wishing to explore Mindful Sexuality in a community setting.
"Freedom from social and cultural conditioning"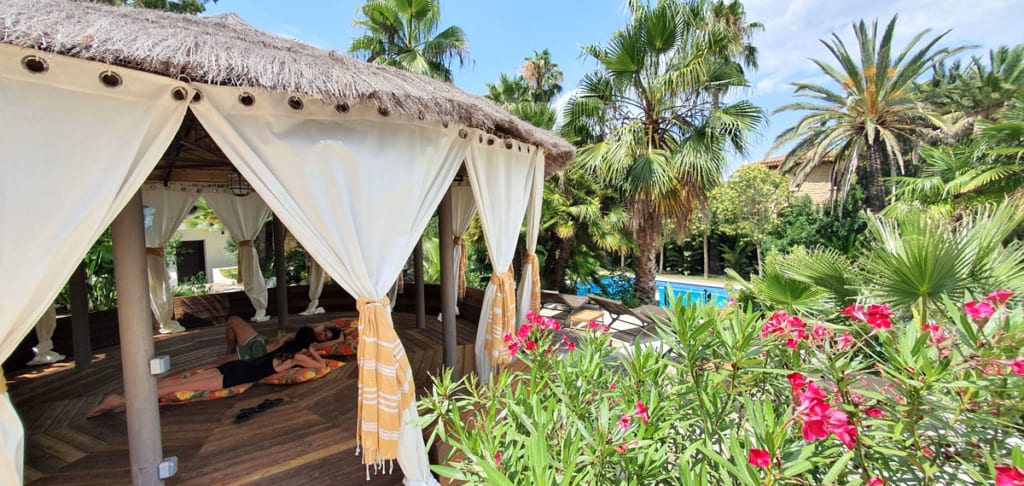 "A unique opportunity to experience life in a Holistic Community"
What is our lifestyle like?
Our lifestyle is inspired by ancient forms of communal living, such as clans, tribes and communities.
At La Casa Dorada, we explore living together and embodiment through:
Hatha Yoga, Sexual Tao and active Osho meditations

Mindful Sexuality with body-based practices
Sharing circles
Mindfulness in daily life through Karma Yoga
Connection to nature and nudity
Cooking and eating together
Playfulness and celebration
Ritual and Play Party
Many languages are spoken at La Casa Dorada. English is the main language here, but French, German and Spanish are also used. The TTX is a great opportunity to meet people from different cultures and ways of life. The type of Tantra we practice can be called a "Global Tantra", which integrates different aspects of sacred and contemporary sexualities like Red Tantra, Sexual Tao, BDSM, sensual rituals and more.
Who is the TTX for?
The Tribal Tantra Xperience is perfect for those who wish to take the path of embodiment and pleasure as tools for self-empowerment and personal growth, alongside the desire to experience holistic community life and to be supported by a group to express their true nature.
Whether you are a total beginner, an experienced practitioner or a member of the sex-positive community, we welcome singles, couples and other constellations, regardless of gender, age, race or orientation. Beginners are invited to book a private session with Christian or Simone in order to land quickly and softly into Mindful Sexuality wisdom.
At La Casa Dorada, thanks to the daily practices and the different proposals offered, you will be able to create your own routine to integrate into your life.
La Casa Dorada is an open laboratory where you can practice your skills and refine your personal talents.If you are a practitioner or a teacher, you're more than welcome to share your knowledge in a practice or session. You will also have here a group of enthusiastic people who can inspire you to shape and develop new practices related to your teaching. Here you can do what you are already doing, but maybe in a new and different way.
Let's co-create this community life together!
What do we provide?
Our space is somewhere to meet, connect and practice with like-minded people in a frame of safety, respect and openness. We prioritise creativity, playfulness and fun at La Casa Dorada. Our community promotes good communication, integrity and consent so that we can meet our edges and express what we really want.
Expansion into our fullness is only possible when we feel free to speak our desires, our boundaries and to reveal our natural way of being.
Expression through words, sound, emotion and movement is encouraged here. At La Casa Dorada we're cultivating a community of grounded, open and loving people. We want to have fun living together: experimenting and enjoying the pleasures of life.
The daily schedule of common activities is generally as follows from Monday to Friday:
07:30 / 08:30 – Hatha Yoga, or movement practice
08:30 / 10:00 – Breakfast and free time
10:00 / 13:00 – Community work
13:00 / 17:00 – Lunch break and free time
17:00 / 18:00 – Time to share skills and knowledge
18:00 / 21:00 – Dinner and free time
21:00 / 23:00 – Body practices or sharing 3 times a week
Weekends and the free evenings are also free to enjoy the surroundings, and remain available for spontaneous community proposals … At daytime it's also possible to exchange massages or bodywork with other community members.
Wednesday is a special day to be together, sharing yoga and bodywork in the morning, maintenance work in the afternoon and sharing circle in the evening.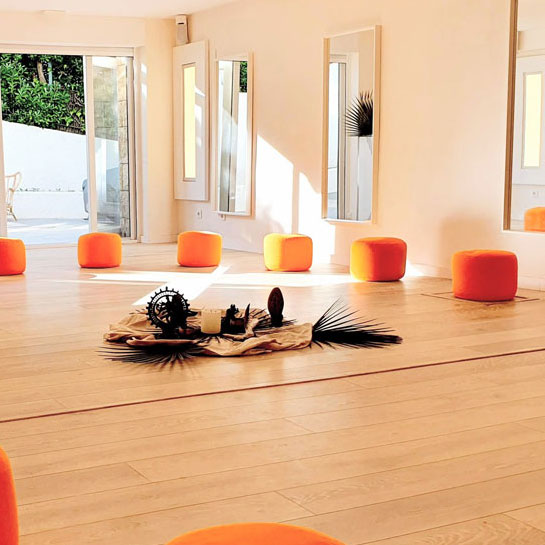 Daily practices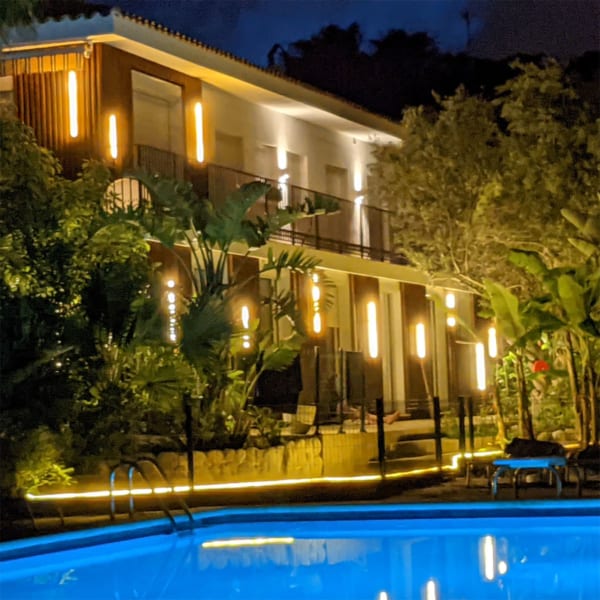 Nights Rituals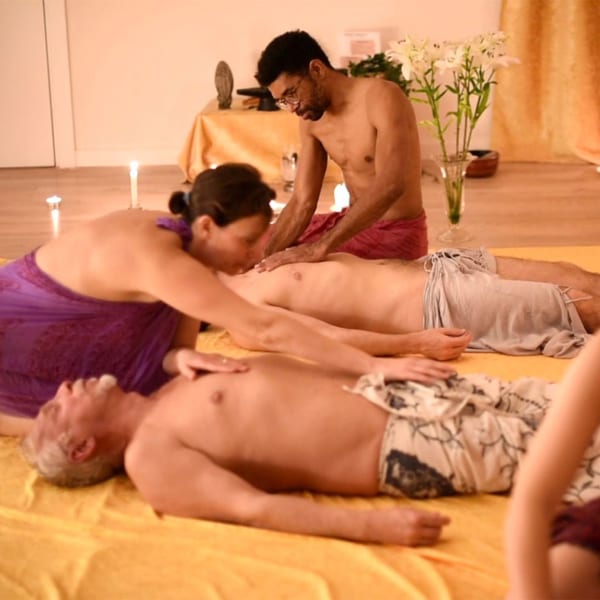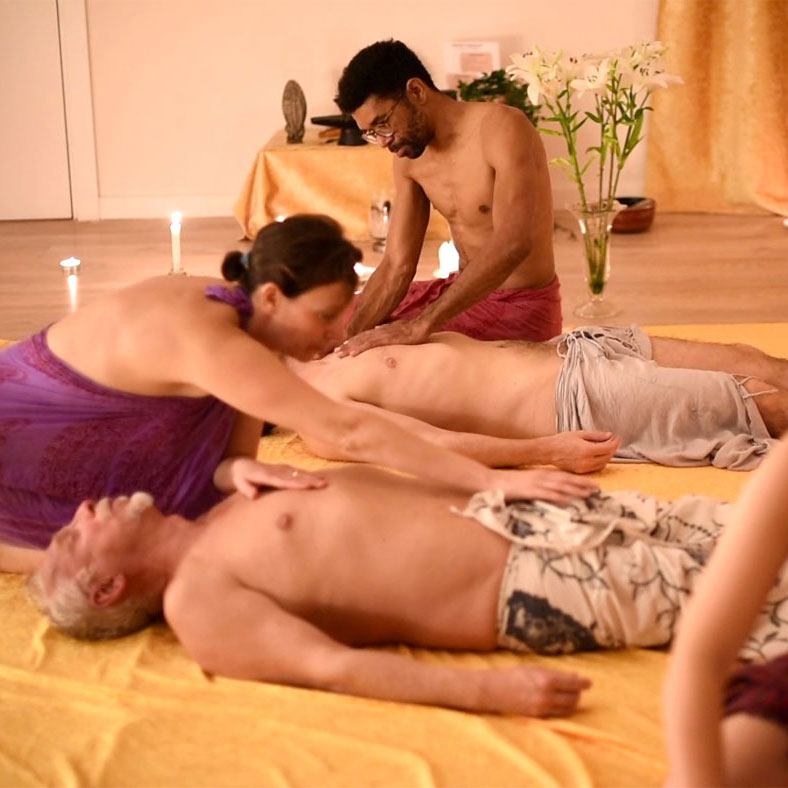 Special events
A safe place in which you can express yourself
Due to the intimate focus of our community, we would like to get to know you a little, to see that the TTX is fitting for you. We will ask you to fill out an information form (about your prior experience, your interest in La Casa Dorada etc.) and then we will set up a video call to connect, prior to confirming your participation.
We also ask that you read and sign our community commitment.
Please do not make any travel plans until you have received our written confirmation to join the community!
What is the difference between our tantric co-living and a tantra workshop or naturist holiday?
Although we live in an idyllic location by the sea, and the space of Casa Dorada offers many possibilities to relax and unwind, the primary intention is to live and celebrate the benefits of Mindful Sexuality on a daily basis.
This involves being active in this celebration. Both through practices related to the body (yoga, active meditations, massage exchange, energy cultivation etc.), and also by actively participating in the daily life of the community.
One of the primary intentions of TTX is to learn how to integrate the benefits of Mindful Sexuality into your daily life.
Unlike a Tantra Workshop – we offer a light but solid structure, through which you can create your own experience and already begin to integrate before you leave.
Investment
The minimum stay at La Casa Dorada is based on one week (6 nights). However in general we prefer people to stay longer for better integration and participation in community life. Two weeks is the most suitable time to integrate the benefits of new holistic habits. Your contribution to the cost includes accommodation in a shared bedroom, 3 vegetarian meals per day, daily body based activities and use of the facilities including the nudist pool and tropical garden.
Short stay: 6 nights, 80 € / per night
Medium stay: 13 nights, 60 € / per night
If you wish to stay longer, please contact us
When to arrive
To integrate into the community and weekly practices smoothly, we ask that you arrive on:
Sunday from 17.00h to 21.00h
Departure is usually on Saturday morning, before lunchtime.

"
In this safe, tropical and luxuriant environment, with a high quality structure perfectly adapted to physical and intellectual relaxation and also to the intellectual relaxation and conviviality, our bodies were free to express themselves, delightfully revealing the buried secrets of our spontaneous instincts acquired naturally from birth. Work on deep and conscious breathing was the basis of the benefits obtained on our well-being, and generally on our relationship
Richard and Veronique, France.Int
"
Now that we are back home, we wanted to thank you again for your warmth, welcoming, and incredibly lovely connections from both of you with both of us. We realized, sometime on Wednesday just sitting at the dining table, that I was in a place where I was completely comfortable and relaxed for the first time in months. While it might not be obvious, I can be a bit of an introvert, so this was a rare and wonderful moment. Given all of the stressful reasons that we made this trip. I'm so grateful for that magical moment.
TTX participants from Philadelphia
"
Tantra and Mindful Sexuality go far beyond sex
Through Mindful Sexuality, all daily activities are opportunities to experience other dimensions of Being, especially when approached with Consciousness and Intention.
By immersing oneself totally in each present moment of Mindful Sexuality, one reaches Universal Ecstasy. When you live in a Tantric way, you live with love and passion for all of life, and with a constant and blissful connection to All That Is and All That You Are.